OSWALD
Oswald was created by Dan Yaccarino.
Oswald's first show was broadcasted on August 20, 2001.
There were a total of 29 episodes of Oswald.
Cartoons Wikipedia: The series is set in a colorful world populated by a cast of anthropomorphic animals, mythological creatures, or humanoid beings resembling plants or vegetables and follows the daily experiences of an anthropomorphic blue octopus named Oswald, accompanied by his beloved pet dachshund (designed as a hot dog) appropriately named Weenie and their life in the cheerful and whimsically-designed community of Big City. Commonly, the program concentrates on Oswald's experiences with friends, acquaintances, and neighbors—including Henry, a talking penguin and Daisy, a humanoid, anthropomorphic daisy, among others—and his patient methods of coping with or tolerating different average situations or dilemmas, along with his thoroughly positive, optimistic outlook on life.
Oswald is a large, round, blue octopus who lives in an apartment complex with Henry the Penguin and several other animals including a turtle named Buster. A very gentle, polite and big-hearted octopus, Oswald is always willing to go out of his way to help his friends. His favorite hobby is playing the piano and singing. Oswald always wears a life preserver when he is around water and loves Swizzleberry Swirl ice cream.
Weenie (sometimes referred to by Oswald as "Weenie-girl" or just "girl") is Oswald's pet; a "wiener-dog", very similar to a Dachshund. Weenie bears a strong resemblance to a hot dog and only communicates in "bark-speak". Weenie accompanies Oswald everywhere he goes, and her favorite food is vanilla dog biscuits.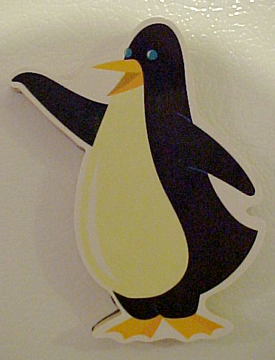 Oswald's downstairs neighbor and best friend. A persnickety penguin, Henry is a creature of habit in every way and usually shuns the idea of trying different things, though he can sometimes be persuaded otherwise. He does his best to maintain a rigid schedule, which includes taking care of his extensive spoon collection, ending every evening watching "Penguin Patrol", his favorite TV show, and doing the Penguin Polka before bedtime. Most of Henry's favorite foods are fish-flavored and he is a proven expert on snow.
Daisy is a tall orange/yellow/green daisy. Free-spirited and energetic, Daisy participates in sports and other activities. She is a close friend of both Oswald and Henry; the three of them often go on sojourns together. Daisy loves sunflower sundaes, riding her unicycle, has a large leaf collection and loves peppermint tea. Daisy is very excitable, often needing to be hushed by Oswald when she speaks too loudly.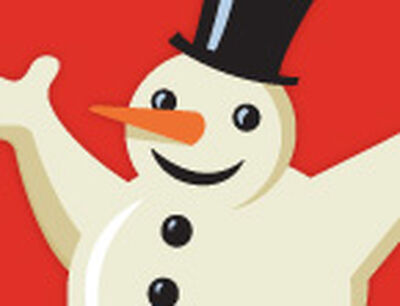 Johnny is a laid-back snowman who operates an ice cream shop and also has an ice cream truck. Johnny wears a black hat, sports a carrot nose, and has a deep baritone voice. Johnny Snowman has a brother in the Frozen North named Phil.

They are two identical twin eggs, named Egbert and Leo. Leo always responds in conversations with an enthusiastic "Yes, yes!" while Egbert refers to everyone as "old boy".
Catrina is a baby caterpillar that is just learning how to speak. She is the only child of Madame Butterfly. Like other babies, Catrina is highly curious about everything around her, but is always surrounded by her mom or others to keep her curiosity in check.

Madame Butterfly is the mother of Catrina and the owner and proprieter of the local diner, a favorite lunch stop for Oswald and his friends.
For more information, facts, videos of Cartoons visit: Cartoons Wikipedia